Creating a great CV/Resume is essential in landing your dream job in the Power Platform industry. Your CV is often the first impression a prospective employer will have of you, so it's essential to make it stand out. In this post, we'll walk you through the steps to create a great CV from scratch, regardless of your previous experience in the Power Platform.
Step 1: Determine Your Core Competencies
Before creating your CV, you need to identify your core competencies. These are the skills, knowledge, and experience that you possess that make you unique and valuable to potential employers. For example, if you're an experienced Power BI developer, your core competencies might include data modelling, visualization, and report creation.
To determine your core competencies, list the Power Platform tools and technologies you're proficient in. This could include Power Apps, Power Automate, Power BI, and Power Virtual Agents. Next, list your specific skills in each of these areas, such as creating custom connectors in Power Automate or using DAX formulas in Power BI.
Step 2: Design Your CV / Resume
Now that you've identified your core competencies, it's time to design your CV. Many online tools are available to help you design a professional-looking CV, but we recommend using Canva. Canva is a free online graphic design tool that offers a variety of CV templates to choose from. It's easy to use and allows you to customize your CV.
When designing your CV, remember that it should be visually appealing and easy to read. Use a clean and simple design with a legible font. Avoid using too many colours or images, as this can be distracting. Instead, focus on highlighting your core competencies and achievements.
Here's an example of the many templates available in Canva: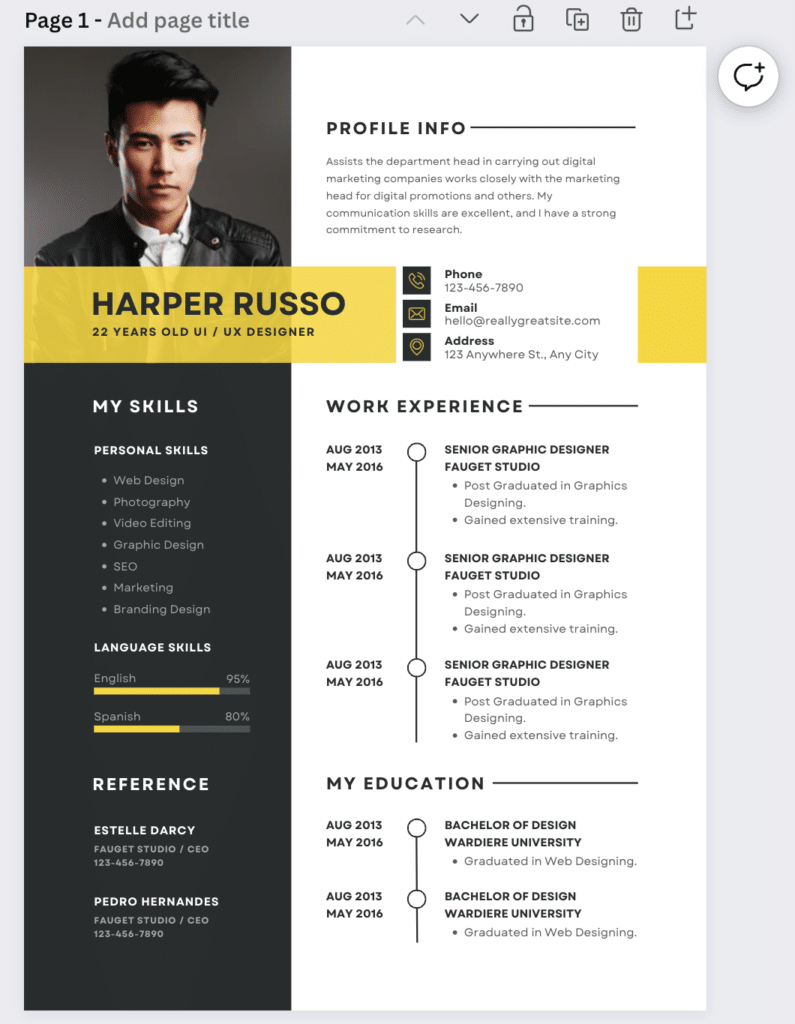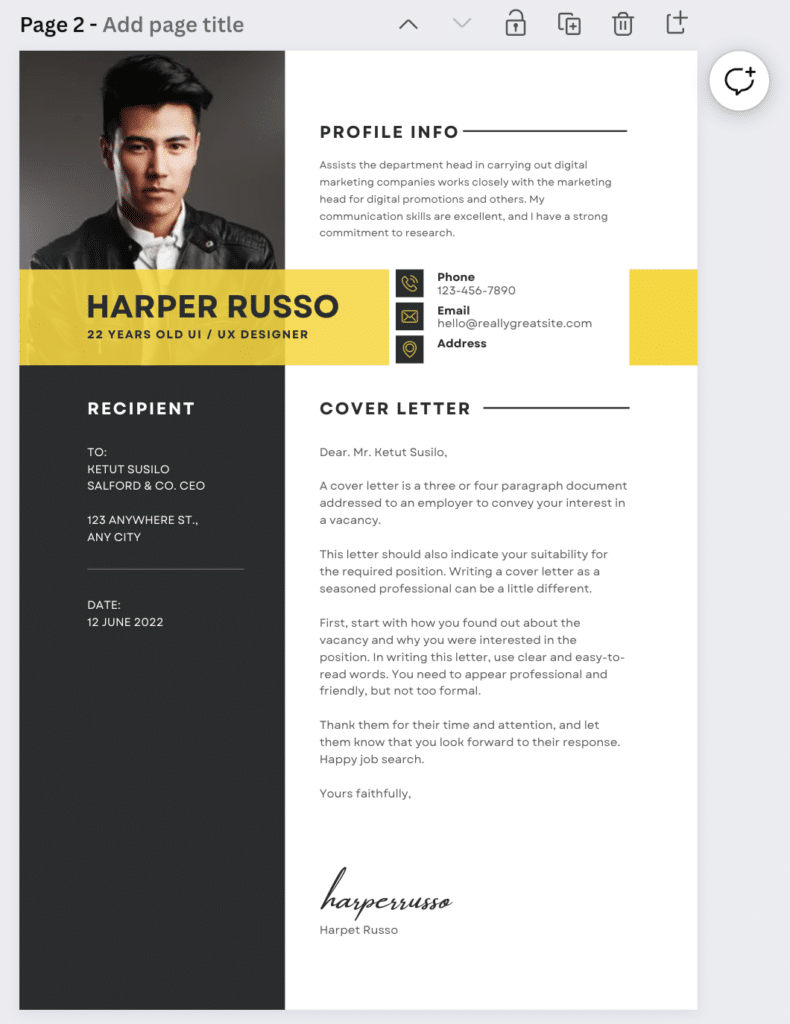 Step 3: Add Your Core Competencies and Achievements
Now it's time to add your core competencies and achievements to your CV. Start by creating a "Skills" section and listing your core competencies. Use bullet points to make it easy to read. Under each core competency, provide specific examples of how you've used that skill to succeed in the Power Platform industry.
Next, create an "Experience" section and list your previous work experience. For each job, include your job title, the company's name, the dates of your employment, and a brief description of your responsibilities. Use bullet points to highlight your achievements and how you've used your core competencies to succeed.
Step 4: Create a Video Version of Your CV
One way to stand out from other candidates is to create a video version of your CV. In the video, you can showcase your personality and communication skills and provide more detail about your core competencies and achievements.
To create a video CV, use a tool like Loom or Zoom to record a short video of yourself talking about your skills and experience. Keep the video short and concise, highlighting your unique value proposition.
Step 5: Write a Compelling Cover Letter
A well-written cover letter can make all the difference in getting noticed by potential employers. Use the cover letter to introduce yourself, explain your interest in the position, and highlight your core competencies and achievements. Make sure to customize the cover letter for each job you apply for, and keep it concise and easy to read.
Bonus Tips and Tricks to Stand Out
Now that you've created a great CV, here are some extra tips and tricks to help you stand out from other Power Platform professionals:
Showcase your passion for the industry: Many employers are looking for candidates who are passionate about the Power Platform industry. Make sure to highlight any personal projects or contributions you've made to the community, such as creating a blog or participating in online forums.
Include relevant certifications: Certifications can demonstrate a strong understanding of a particular tool or technology. Ensure to include any relevant certifications you have earned, such as the Microsoft Certified: Power Platform App Maker Associate or the Microsoft Certified: Power Platform Functional Consultant Associate.
Use keywords: Many employers use applicant tracking systems (ATS) to screen CVs before a human reviews them. To ensure that a human sees your CV, include relevant keywords specific to the job you're applying for.
Quantify your achievements: Whenever possible, quantify your achievements to provide concrete evidence of your skills and accomplishments. For example, instead of saying, "created a dashboard in Power BI," say, "created a dashboard in Power BI that led to a 20% increase in sales."
Tips for Those with No Previous Power Platform Experience
If you're new to the Power Platform industry, here are some tips to help you create a great CV:
Highlight transferable skills: Even if you don't have direct experience with Power Platform tools, you may have transferable skills relevant to the industry. For example, highlight these skills if you have experience with data analysis or programming.
Emphasize your willingness to learn: Many employers will train new hires in the Power Platform tools and technologies. Remember to emphasize your desire to learn and enthusiasm for the industry.
Include relevant coursework or personal projects: If you've taken all relevant coursework or worked on personal projects related to the Power Platform industry, include them on your CV.
In conclusion, creating a great CV is an important step in landing your dream job in the Power Platform industry. By following these steps and incorporating these tips and tricks, you can create a standout CV that highlights your unique value proposition and sets you apart from other candidates.